Getting the Farm Ready for the Chicken Run
aka Spring Cleaning!
Saturday, April 7th, 2018 from 9 a.m. to 1 p.m.
Potluck Lunch Starts When the Work is Done!
Bring Your Favorite Foods!
Volunteers Needed!

Spring cleaning on the farm not only involves the usual picking up, raking up, and washing up. It also means getting the property ready for the hundreds of racers, walkers, sponsors, and volunteers who all make the farm's Chicken Run on Sunday, April 8th a wonderful success!
Because there are so many things that need doing before opening the farm to visitors, there are all kinds of jobs that need doing: stand-up jobs, sit-down jobs, some heavy lifting jobs, those that build up your callouses, one type that softens your hands, and of course, cleaning up for the last time after the pigeons. (See below for more information.)
Even if you can only spare an hour or so, your help is greatly appreciated!
Can't volunteer right now, but still want to help? Click here for other ways your can support The Historical Strong Family Farm!
Check out the list below for the types of work that will need doing on on Saturday April 7.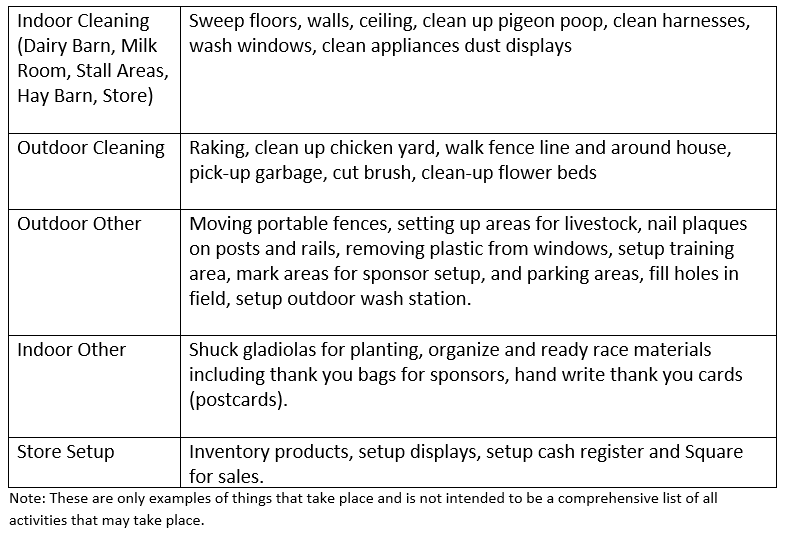 Did you know that any time you volunteer at the farm the time you spend there helps the farm get different types of grants?
It's true!
Many grants are awarded only if an organization can pony-up "matching funds". Included in matching funds are the hours that you volunteers spend keeping the farm going.
Not only do you get to see the immediate results of the work you do when you volunteer, but you also help the farm look good on the grant applications!
Thank you!