Strong Family Farm is a 501(c)3 charitable institution!  Make your tax-deductible donation so that we can continue to preserve the farm and fulfill our mission to provide a historic agricultural education center where children, individuals, families and community groups can experience an authentic family farm environment.
______________________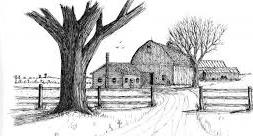 Sadly, the fencing around the farm that was installed over 50 years ago by Norman Strong, with his son Morgan by his side, is in drastic need of replacement.  A special fundraising effort is starting now to replace the Peterson and West Road fences.  Appropriate hardwood posts and split rails will be used in keeping with the Strong Family Farm's  mission.
Please consider donating towards a rail, or a post, to help pay for the much-needed new fence.  The goal is to raise all the necessary funds by Labor Day.  It's a big goal but with your help, it can be done!!
Nameplates will be put on all rails and posts to reflect the donor's wishes. Consider sponsoring a post in your own name, to honor someone special, or in loving memory of a friend or family member. The cost for one hardwood post is $100 and a rail is just $50.
Please fill in this Fence Application Form and mail to us today with a check made out to Strong Family Farm, Inc.  OR you can donate below online, but please fill out the application form with the desired words to be put on the plaque and mail to us.
Thank you in advance for your generosity.
Your ongoing support means more than you know.  
_____________________

ALSO

– Shop at AmazonSmile and we will receive .5% of the sales.
 _______________________________
Leave Your Legacy

…. did you know that you can continue supporting Strong Family Farm beyond your lifetime?  
There are many ways to design a legacy gift, including:
IRA's
Bequests
Charitable Gift Annuities
Trusts
Life Insurance
It is becoming more and more common for people of all ages and means to leave legacy gifts to a charity in their wills and estate plans.  This thoughtful foresight is evident in the generosity shown by people from all walks of life – with different income levels, professions, and passions.    If you work with a financial planner, lawyer or accountant, talk to them about your charitable wishes.  They will help you achieve your goals.   You can be part of the Strong family legacy to provide a historic agricultural education center for future generations to experience an authentic family farm environment.