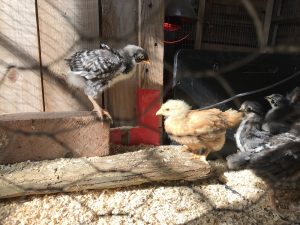 The Backyard Chicken Program is full for 2021. But we're offering Backyard Chickie Story Time for pre-schoolers, 3-5 years old, every other Wednesday starting June 30 for 8 weeks. Limited space! If you are interested in joining the story time, email us at [email protected]
The Backyard Chicken Program is a fun and educational way to help children and their families experience farming life – and chickens – in a very unique way.
The chicks will arrive on the Farm March 29, 2021 and the program begins Wednesday, June 23, 5:00-6:00pm and runs biweekly into October.
Families and adults participating in the program not only will get to spend quality time with the chickens, but they will also:
Learn basic chicken anatomy and responsibility for caring for the chickens
Why chickens are an important part of our lives
Guess when the first egg will be laid
Identify how chickens are the same and different from each other
Explore the farm collecting treats for the chickens, and for yourselves too!
Each class is a variety of instruction, craft or project, exploring and learning about the farm, and hands-on interactions with the chickens.
It's always a lot of fun to watch the chicks grow and change from week to week!
The cost of the Backyard Chicken Program is a nominal, one-time donation of $40/per chicken which covers the cost of the chickens, their care and feeding, as well as the lessons and other activities.
You may sign-up for 1 chicken per family or one chicken per person.
All classes are in The Big Yellow Barn at the Historic Strong Family Farm, 274 West Street, Vernon, CT.
For more information contact us at [email protected]
Note:  All children must be accompanied by an adult.  Participants should dress appropriately for a farm environment.