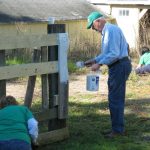 Do you have time and talents to share?
Many volunteers are needed to help save the Strong Family Farm for future generations. Whether you have a few hours or a few days a month, we'd love to have you join us on our beautiful historic farm.
Here's an example of the ways you can contribute:
Volunteer coordinator
Recording Secretary(s)
Recipe Book Committee members
Photographers and Gardeners
Watchers, greeters and receptionists at events
Work Day opportunities – carpenters, weed whackers, rakers, sweepers, painters, etc.
Scarecrow Contest Organizer
Newsletter and website contributors/editors/writers
Sales coordinators
Booth Monitors/PR at area events/Farmers Markets
Farm implements identifiers/workshop organizers
Display of historic farm implements organizer
Old photographs touch-up and displays
Graphic artists
Collaborator w/ schools and clubs
Tour guides
Membership Chair
Steering Committee members
Grounds keepers
Event workers – safety control
And many more!
Call us today at (860) 874-9020 to arrange your visit to the farm or email us at info@strongfarm.org.
Keep an eye out for Farm Work Days in the spring and fall where more that 40 people show up to help out at the farm in so many projects.  Many hands make light work!