In his classic New England poem, "Mending Wall," Robert Frost penned the famous phrase "Good fences make good neighbors." At Strong Family Farm we know it takes good neighbors to make good fences.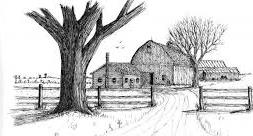 Norman Strong with the help of his son, Morgan and farm hands, Otto Schatz and John DeCarli, put in the fencing on Peterson Road over 50 years ago using split telephone poles and cedar posts. It has served its purpose of keeping in the cows and turkeys on farm property for many years and has been ready for updating and replacing for years.
Thanks to many good neighbors and friends, the new fence surrounding the farm is now up and looking wonderful. Many posts and rails have been donated by friends of the farm over the past few years. A plaque has been put on each donated fence piece with a dedication of their choice.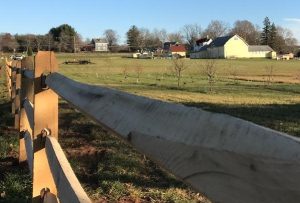 It's no too late to donate a rail or a post! Make a donation to Strong Family Farm, in your own name, a friend's name or the name of a loved one. This makes a great gift or memorial for a birthday or special occasion. Your name, or the name of your business, or the name of a loved one can be permanently affixed to this historic farm.
So please donate today! Send a check for $100 for a post or $50 for a rail made out to "Strong Family Farm" (put the word "Fence" in the memo section) and mail to 274 West Road, Vernon, CT 06066. And include this Fence Replacement Donation Form so we can complete your plaque and share your donation with whomever you choose to do so. Or donate here via our online Fence Replacement Page. Best of all, your donation, whether check, cash or credit is tax deductible as we are an official 501(c)(3).
Thank you  for your support of the farm. Your continued support ensures Strong Family Farm will remain part of the Vernon community and the Vernon landscape.