A Fun and Educational Program for Kids from 6 to 96
The chicks arrive in early April. Now is the time to register for our Backyard Chicken Program! You can register online or use our paper application. For more information, email us at [email protected]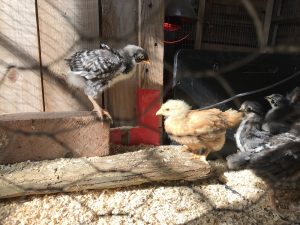 The Backyard Chicken Program is a fun and educational way to help children and their families experience farming life – and chickens – in a very unique way.
The chicks arrive on the Farm in late March and are introduced to everyone at the 5K Chicken Run. The program begins in June and runs biweekly to October.
Families and adults participating in the program not only will get to spend quality time with the chickens, but they will also:
Learn basic chicken anatomy and responsibility for caring for the chickens
Why chickens are an important part of our lives
Guess when the first egg will be laid
Identify how chickens are the same and different from each other
Explore the farm collecting treats for the chickens, and for yourselves too!
Each class is a variety of instruction, craft or project, exploring and learning about the farm, and hands-on interactions with the chickens.
It's always a lot of fun to watch the chicks grow and change from week to week.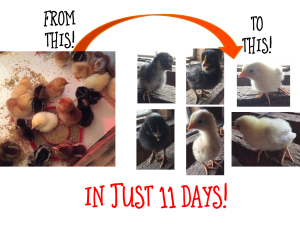 Plus – there's more to do at the farm including picking what's in season, or simply taking a few minutes to sit and relax while the kids have a great time running around.
Our chicks are graciously donated by Traci Torres and the folks at MyPetChicken.com.
The cost of the Backyard Chicken Program is a nominal, one-time donation of $40/per chicken which covers the cost of the chickens, their care and feeding, as well as the lessons and other activities.
You may sign-up for 1 chicken per family or one chicken per person.
The Backyard Chicken Program takes place on alternating Wednesdays from 5:00 to 6:00 pm, June through October.
All classes are in The Big Yellow Barn at the Historic Strong Family Farm, 274 West Street, Vernon, CT.
For more information contact us at [email protected]
Note: The Backyard Chicken Program is a single-season activity with new chickens arriving each year. We say goodbye to the chickens at the Annual Harvest Festival in October, when the chickens go to their new forever home.
Read more about the Backyard Chicken Program in an article from 2015 in Backyard Poultry Magazine by Quinn Eurich.
---
How it Began
The idea for the program began with a mother (instructor Alexis Carmicheal) who raised chickens, a daughter who took a baby chick to school for show and tell, and a classroom of children who all thought eggs came from grocery stores.