Sundays at the Farm
Thanks to the CT Cultural Fund Operating Support Grant and with the support of Connecticut Humanities and the Department of Economic and Community Development, Office of the Arts, which also receives support from the federal ARPA, we are in full swing this season with a host of FREE programs every Sunday from 10:00am-2:00pm that includes activities and visiting farm animals.
Mark your calendars!
July 3 – Picnic at the Farm! – Pack your picnic baskets, blankets and come on down to the farm. Meet our visiting animals, make a pin wheel, and stop in the Farm Store and grab a treat from the ice cream truck.
July 10 – Gardening at Home – It's not too late to plant a garden! Meet with some of the raised bed gardeners at the farm and they will show you how easy it is to grow at home. Plant a sunflower to take home and free seeds are available. The ducks from Aussakita Farms will be visiting!
July 17 – National Ice Cream Day – Learn how to make ice cream! Plus the goats from Aussakita Farms will be visiting!
POSTPONED July 24 – Meet Your Local Authors – Vernon and surrounding towns have multiple published authors! Come meet a few of them and hear about the stories they have written. There will be story time and activities with a couple of the children's authors, including our author in residence, Lori Sanchez, whose new book features Strong Family Farm. And we will have pigs visiting from Aussakita Farms.
July 31 – Raising Chickens – Didn't get a chance to sign up for our Backyard Chicken Program? Come and learn all about raising chickens and bring all your questions for our farm expert, Alexis Carmicheal. We will also be going over treats that you will be able to offer to our "girls."
August 7 – Touch a Truck – Come down to the farm to see tractors, tow trucks, firetrucks, and many more vehicles. Kids will also be able to paint a tractor magnet to take home.
August 14 – Canning with Claudia – Ever wonder what you could do with the leftover vegetables from your garden? Our resident canner, Claudia, will demonstrate food preservation and how to can at home. Plus alpacas from Aussakita Farms will be visiting!
August 21 – Bee Talks with Walt – Do you have questions about raising bees at home or wonder how bees make honey? Come down to the farm and our beekeeper, Walt, will answer you questions! Plus you can stop by the store for local honey. Sheep from Aussakita Farms will be visiting!
August 28 – Story Time at the Farm – Come hear a story on the farm! We will be reading different farm stories throughout the day. Children will also have the opportunity to make a bookmark to take home. The ducks from Aussakita Farms will be visiting!
*Please note: For both human and animal safety, the animals from Aussakita farms will be visiting only, no petting or feeding will be allowed.
And see what else we have going on at the Farm!
---
New! Junior Farmers Camp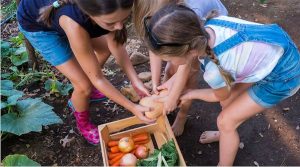 August 22-26, 1:00-3:00pm, for ages 7-11. In this 5-day camp, "junior farmers" will learn all about different aspects of the farm including raising chickens, bees, and other pollinators, gardening and growing crops, farm life throughout the years, and MORE!
Run by farm friend Priscilla Cruz of Social Cooking Club.
Cost: $125.00
Register here
---
Strong Family Farm hosts multiple events every year