View Calendar
06/24/2020 5:00 PM - 6:00 PM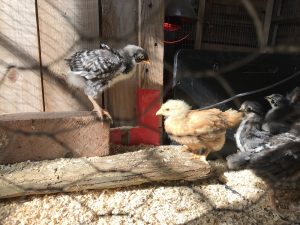 The Backyard Chicken Program (formerly Adopt-a-Chicken program) is a fun and educational way to help children and their families experience farming life - and chickens - in a very unique way.
The chicks arrive on the Farm in late March. The program begins in June and runs biweekly to October.
Families and adults participating in the program not only will get to spend quality time with the chickens, but they will also:
Learn basic chicken anatomy and responsibility for caring for the chickens
Why chickens are an important part of our lives
Guess when the first egg will be laid
Identify how chickens are the same and different from each other
Explore the farm collecting treats for the chickens, and for yourselves too!
The program is full for 2020, but check back in early spring 2021 for registration for next year!
Note:  All children must be accompanied by an adult.  Participants should dress appropriately for a farm environment.